A Product video is a way to introduce your product in a simple way. Let's talk about "Role of product Video in Ecommerce SEO" we will discuss how can your e-commerce business will stay on top of your competition.  
When you will go online shopping on an eCommerce portal, then people generally refer to the reviews of products, rating of the product, and ask your friends for that particular product. In fact, 90% of people watch the product video. 
What's a product video?
"A product video is something to describe the benefits of a product". While many of the products focus on features of product video. Demo videos of products mainly focus on the demonstration of "How the product functions are working?"  
Let's suppose you are planning to buy a bike from an online store. First, you will go for an online search and will go through the reviews, videos of the product to know the functionality of the bike. Thereafter, you will make a plan to purchase that. 
Role of Product Video in Ecommerce SEO
The main purpose of the product video is to explain the important features to the customers in an easy way. Did you know 90% of people believe in the video of a product before purchasing that?
Social media is the best platform to showcase your product, also you can go through short videos for advertisement on Instagram and Youtube. 
Ecommerce Sales Statistics 2022: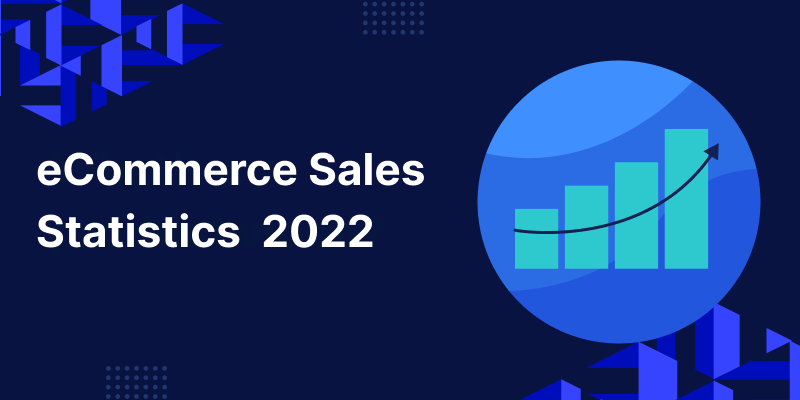 The latest trend of eCommerce platforms plays a vital role in B2B eCommerce. If you are looking for a good amount of profit in 2022 so it's the right time. Check out the below statics:
Video Marketing Statistics for Social Media:
Here are some statistics that demonstrate, why product video is important as per current marketing trends. 
Online video will make up more than

82% of consumer traffic by 2022. 

Studies show that

78%

of people watch online videos

every week

and

55%

of people watch online videos

every day.

In fact,

84%

of people have been convinced that they buy the product after watching the brand's video (

Optinmonster

)

Study shows that, 86% of business use video as a marketing tool.
By 2022, 85% of global video traffic will come from streaming videos and downloads. 

6 out of 10 people prefer watching online video content compared to television (

Think with Google

)

Online video consumption has increased across all age groups in the last 5 years but the largest increase is seen in people over 46 years old (

Limelight

)

Videos that are up to 2 minutes long get the most engagement. In fact, Globally, half of all the videos that were produced last year (56%) were less than 2 minutes long (

HubSpot

)
Benefits of Product Video
Key benefits of product video that we are going to discuss here: 
Increase conversion rate: 
In the present scenario, if the customer wants to buy something from e-commerce then he or she will look around a 360-degree view of the product after that they can make a decision to buy the product.
Which refers to the conversion rate of the product video. When the customers want to buy something then they get into the relevant video and then they make the decision to buy the product. 
Helps in SEO :
For watching the video of your product more and more people will go through your channel that would be able to help in the SEO of the product. 
Increase your product value
As we know, YouTube is the second largest search engine, When it comes to increasing the value of your product then the customers want to buy something then it needs the video, which gives proper detailing of the features and the benefits. 
Increase the understanding of the product:
Over 57% of the global audience watched the video. TV shows and movies are the primary reason to use the internet. 
What can product video do for your Ecommerce store?
Products focus video brings dynamism to your online shopping experience.  There are various uses of product focus videos for an e-commerce store.  
Product Page: Videos are the best way to introduce the functionalities and features of the product. Hence, the ranking of that particular product will enhance. 
Live Streaming: Live streaming can help to improve the SEO, get a closer look at the product, and also build trust between customers and the product. 
Article and Blogs: If you writing any blog or article related to the product, then you can include the product video into your blog to enhance the blog ranking and views. Also, you will get very good leads and conversions from product videos as well. 
How does product video boost your Ecommerce SEO?
Ecommerce SEO of product video depends upon the following factors: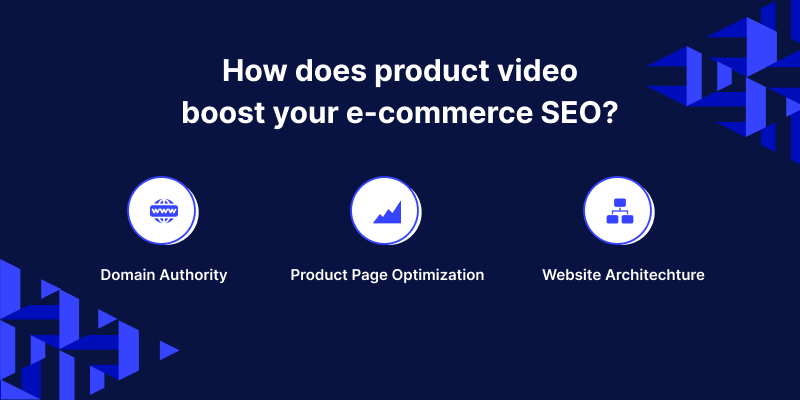 Domain Authority: To increase the overall domain authority of the e-commerce site you need to use content marketing, which will increase the ranking of product pages and categories. 
Product Page Optimization: Page optimization is used to target the keywords three to four times. It simply makes sure that the keyword appears on your product page. So google will understand what your page is all about. 
Website Architecture: The site architecture or how the page on your website is organized and arranged.  It's very important for an e-commerce website to manage lots of pages.
With many pages, it's critical that your site architecture makes it easy for users and search engines to find the most important pages of your website. The secret behind is that you can make two or fewer clicks from your home page. 
URL length: For a better ranking on Google, you need to keep URL short. It will make your site in the top ranking. According to the latest research of SEO companies, we discovered that short URLs tend to rank better than long URLs. 
Note: One more important thing you need to keep in mind is that you don't need to change a long URL to a short URL which can cause serious SEO issues. 
Types of product video best for your Ecommerce store
There are several ways to incorporate into your overall marketing strategy in an e-commerce store. 
Testimonials

Vlog

Explainer

Product Closeup

Product Overview

Product tutorial
Testimonial or Review Video 
Mostly on e-commerce sites, customers are looking for testimonials or reviews of the product before buying anything. In fact, according to recent research of the Fashion Industry, including testimonials or reviews on a product page will increase the conversion rate by 134%. 
Vlog
It is a powerful tool for product promotion. You can hire people for creating the vlog for your product, which will increase the traffic on your website and viewers both. For instance, you can go through various technology-related vlogs on youtube as well. 
Explainer 
An explainer is the best way to give a brief idea about your product. You can create animated or live videos and it would be 30 sec to a minute in the length. 
Product Overview  
A product overview is the main feature of any e-Commerce store, which will increase the ranking of the page. 
Product Tutorial
Some product video is so innovative to understand the audience the value of the product. Google's Algorithm will help you to increase the ranking of the product video, which depends upon the quality of the content and media used there. 
Product Close-up
The close-up video show the product from different angles and the close-up give you a better understanding of the product. 
Conclusion:
Hence, you can improve product video marketing. It's the right time to take advantage of product video for your e-commerce store. You don't need to go for hundreds of videos, just go for some quality videos and test them. It will boost traffic, increase sales, and will help you to convert from prospect to customer. 
Support:
So, that was much about "Role of Product Videos in Ecommerce SEO" for any queries or doubts reach out to us at [email protected]. You can also raise a ticket at our HelpDesk System.
. . .