Let's cover "What is eCommerce Email Marketing? [Definition and Examples]" and you can draw inspiration from it.
Did you know that the current number of global email users is 4.3 billion? And that number is expected to rise to 4.6 billion by 2025?
These stats clearly show that email marketing is an opportunity that your eCommerce business shouldn't be missing out on.
What Is Ecommerce Email Marketing?
Ecommerce email marketing is also a superb marketing strategy to generate sales for your eCommerce store.
It can also be as simple as sending a welcome email to new subscribers. Or as complex as having multiple email marketing campaigns that work together to multiply sales exponentially.
Email marketing is all about building relationships, whether it's through lead nurturing, free shipping coupons, promotions, or offers.
Examples of Ecommerce Emails
Ecommerce emails also provide a personal level of communication with your customers and an excellent opportunity for you to have more future sales.
Here are six different types of eCommerce emails and their examples:
1. Welcome Emails
Welcome emails are automatically sent to customers when they create an account, sign up to your email list, or buy something from you. They welcome buyers to your brand and establish an instant connection with them.
Here's an example of a welcome email:
2. Abandoned Cart Emails
With online shopping carts having an average abandonment rate of 69.82%, most shoppers fill their carts and leave without completing their purchase. As a result, you could lose a lot of sales if you don't take action.
Sending abandoned cart emails can recapture your consumers' attention and position you as the business they want to buy from.
Here's a cart abandonment email example: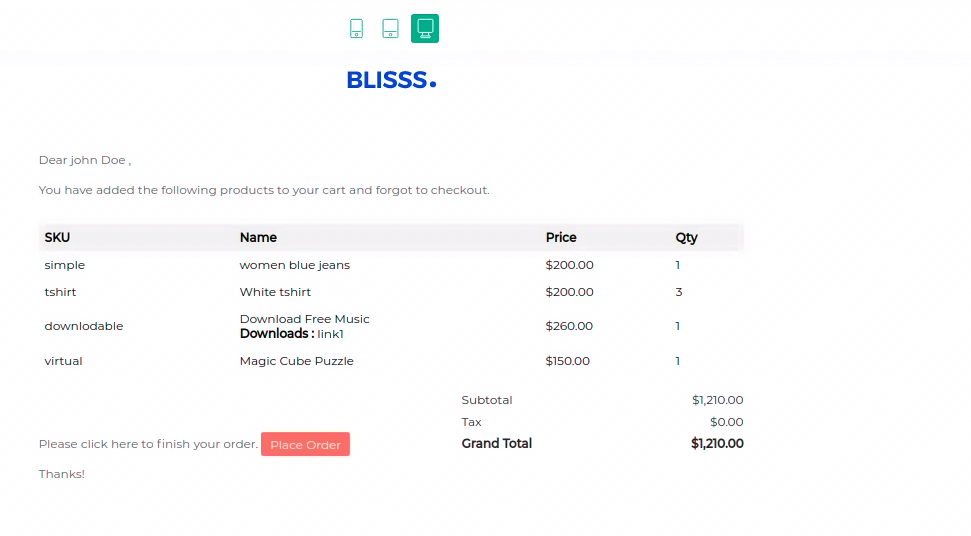 3. Personalized Promotional Emails
You can use customer data to share product inspiration with buyers during key life events such as birthdays.
It will make them feel special and deepen your connection with them, generating more sales.
Here's an example of a promotional email:
4. Order Confirmation Emails
Order confirmation emails are sent automatically after a transaction. They give the customer assurances that you've received their money and will sort everything out for them.
You can also use an order confirmation email to make similar product recommendations to encourage another sale.
Here's an example:
5. Product Recommendation Emails
Product recommendation emails are sent out based on previous purchases. For example, if a customer buys a book edition from you once a year, you can remind them that their next purchase is approaching.
You can also use eCommerce emails to highlight products other buyers have bought and showcase your best-sellers.
6. Thank You Emails
Thanking your customers for their purchases shows you value them and provides a superb way of connecting with them.
Start Ecommerce Email Marketing Today
Email marketing has a huge potential for eCommerce businesses. You can use the examples above to attract new clients, retain existing customers, and drive more sales for your eCommerce site.
Adding automated emails to your eCommerce email marketing strategy will create a smooth shopping experience for your customers. As a result, you'll build a loyal following of repeat customers.
If you haven't already incorporated these eCommerce email examples into your strategy, now's the time.
So, that was much about "What is eCommerce Email Marketing? [Definition and Examples]" for any queries or doubts reach out to us at [email protected] You can also raise a ticket at our HelpDesk System.
. . .