Starting your own eCommerce website lets you think about choosing the eCommerce platform that helps you build a budget-friendly and interactive website.
In this blog, we are going to discuss PHP based open-source platforms that will help you to set up and grow your eCommerce business in 2022.
eCommerce refers to the sale and purchase of products online. eCommerce businesses acquired the market due to its popularity during the COVID-19 as well.
PHP is an open-source scripting language that is extensively used in web development. It is available for free to download and use.
Why There is a Need to Go Online?
Online presence is important for every business owner these days, especially after the global pandemic time. Online stores are gaining popularity due to their low setup cost also.
As it is easy for small to large-scale business owners to start the business by sitting anywhere.
Thus, it is easy to go for an online business for small merchants too. 
Reasons Behind PHP Based Open-Source eCommerce Platforms Popularity 
Whenever you are choosing any platform there must be some points that will assure you to select that particular platform. 
PHP is highly in demand these days for eCommerce website development.
It gives you many reasons as it is convenient and simple to develop your eCommerce store. PHP eCommerce is in trend and new for the eCommerce industry but we cannot ignore the functionalities that PHP eCommerce is offering. 
Here is a glimpse of the excellent PHP eCommerce features mentioned.
Easy and flexible
Cost-effective
Enhanced security
Fast in speed
Improved error handling
Easy to scale
Compatible with different software
Huge community support
Top 5 PHP Based Open Source eCommerce PlatformTrending in 2022 
If you are going to start your eCommerce store and search for the best PHP-based eCommerce platforms in 2022 then we can make your search easy. Here is a brief description of trending 2022 eCommerce PHP based open-source platforms.
WooCommerce
Nowadays, WooCommerce is one of the most demanding eCommerce platforms for startup firms. The popularity of WooCommerce is not only restricted to the store owners but among the developers as well.
It is one of the best software solutions that is used for eCommerce business. The core features of WooCommerce include better product management, inventory management, and payment solutions.
Therefore, it is well suited for both small and medium-sized businesses.
WooCommerce has acquired 23.43% of eCommerce's market share worldwide as of April 2021.
Bagisto
Bagisto is developed on PHP's Laravel and is an open-source platform to create your online eCommerce website.
It comes up with extensive handling for eCommerce business solutions.
Especially when you want to develop a Non-Fungible Token (NFT) Marketplace, Bagisto would be an excellent choice.
It has a facility to develop the multi-vendor marketplace with RTL support and multi-channel inventory control feature.
Bagisto also has the ability to create a multi-tenant and headless marketplace that is in high demand.
The features are not limited as Bagisto provides a few more attributes such as the search options, excellent website SEO, cart management, etc. Thus, anyone can build the marketplace from scratch. 
Prestashop
Prestashop is another PHP based open-source platform that has excellent technical control. The self-hosted and fully hosted option allows the store merchants to build their online store. These options are completely free of cost.
It has numerous themes and modules on the marketplace to customize your eCommerce store as per the business solutions.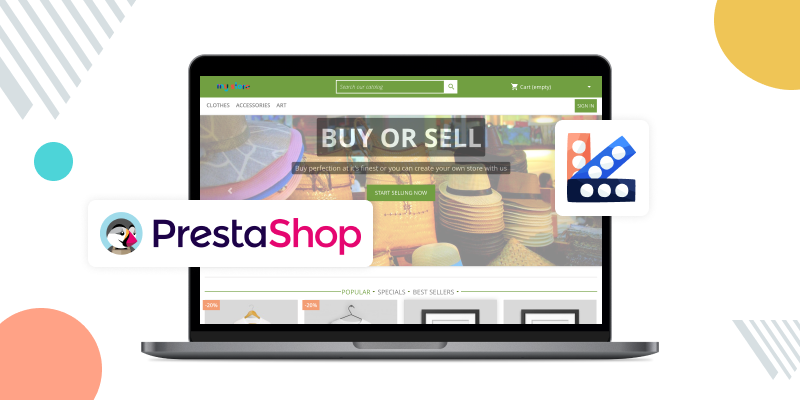 Prestashop comes up with a centralized admin panel. This centralized admin panel will enable the store admin to handle multiple stores and storefronts for various countries.
It also offers a beautiful interface for your website. It has the world's largest active community that makes the development process smooth. 
osCommerce
If you are looking for a simple and easy to maintain platform then osCommerce will be a good option. Having an easy option is simple for anyone to understand and set up their self-hosted store using the tools.
This is an old and reliable but popular platform for eCommerce website development. Moreover, it is free of cost and provides security for online payments.
Due to the strength of 300k store owners, developers, and solution providers it is easy to seek help from the community. 
osCommerce also provides cloud-based hosting on a monthly rental basis. Nontechnical business merchants can easily set up their online store and host it smoothly.
Drupal Commerce
Drupal Commerce is a perfect fit when you are aware of the Drupal admin dashboard. It offers the best solutions if you are thinking to step up your business in a short duration. 
It has capabilities of graphic modification tools, advanced user management, menu management, etc. These functionalities help to build advanced websites, blogs, eLearning course websites, etc.
Drupal allows the store merchants to manage and track the order, receipts, payments, and invoices. That also helps to integrate the different shipping and payment options.
It is the only platform developed on CMS (Content Management System) which makes it compatible with a strong content marketing strategy.
Wrapping Up
Hence, PHP is a full package to build the eCommerce marketplace website. The above-discussed parameters make it the best eCommerce platform to select for your business plan.
That is all about the Top 5 PHP-Based Open Source eCommerce Platforms for 2022. If you have any queries, please feel free to contact us at Webkul Support System.
. . .