"How to Create a Sitemap in Bagisto". With the help of this article, we will talk about creating a dynamic sitemap.xml file for your Bagisto Store.
And before we start breaking the ice, let's explore what is the XML sitemap and how important it is to add the sitemap XML file to your website.
Today, SEO is a crucial part of any effective marketing strategy because a good SEO decides the ranking of your site on the search engines.
Importantly high-ranked results generate more traffic, which should lead to more conversions and sales.
Moreover, there are many factors that can affect your website SEO and a specified sitemap is one such factor that we are discussing here.
Let's Understand Sitemap 
A sitemap is a blueprint of your website. It let's search engine knows about your website i.e., what is present where?
In other words, a sitemap is a file that ends with a .xml extension, and it's a file that contains the important website pages and allows the webmaster to inform search engines what pages are available for crawling.
If the pages of your site are properly linked, most of your site can usually be discovered by Google.
Even so, the crawling of larger or more complex sites, or more specialized files, can be improved by a sitemap.
Using an XML file, a sitemap lists all the URLs of a website in one place & in an organized manner. Therefore, making it easy for the search engines to crawl.
How to Create a Sitemap in Bagisto
Check out the respective blog for how you can easily set up your eCommerce Shop using the Bagisto Laravel eCommerce package.
https://webkul.com/blog/laravel-ecommerce-website/
Once you successfully download the Bagisto Package. You need to have administrative access to your Bagisto site and FTP access.
Also, as an admin, you must have always take a full store database and store theme file backup before making any changes.
Step 2: Go to https://www.xml-sitemaps.com/

Enter your website URL to create a sitemap for your website and click on Start Button as shown in the below image to generate the result
After that, you will see the result or can download your XML sitemap file as shown in the below image
Below you can see the XML sitemap file of Bagisto that included, the homepage, category, checkout page, and products.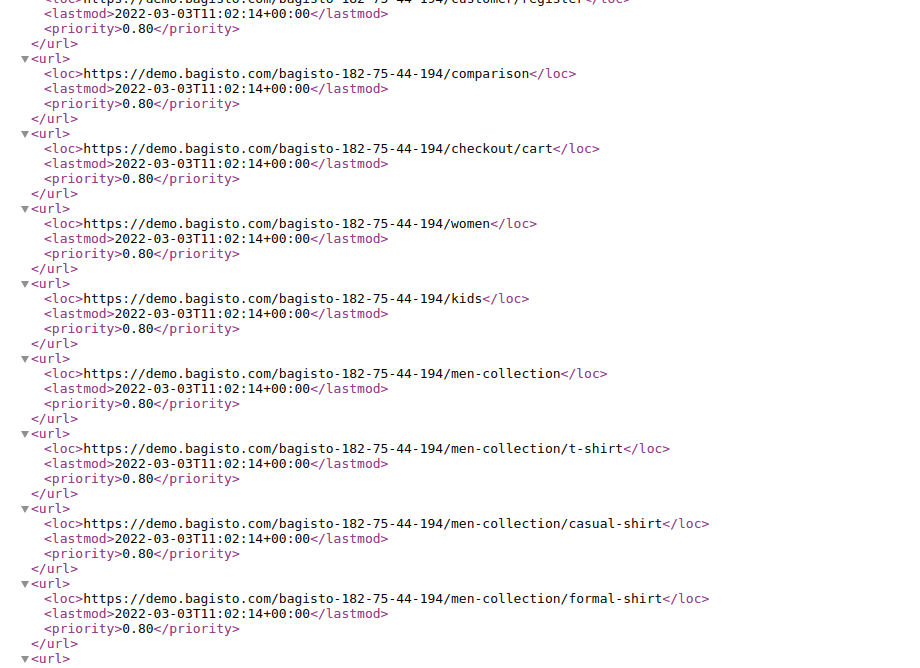 Once you have downloaded the XML Sitemap file now :
Step 3: Go to your project root directory
Step 4: Go to the public folder
Last,  Now paste the XML Sitemap file inside the public folder
Start Bagisto
Now we will kill the two birds with the same stone first, start the Bagisto Store using the php artisan serve command, second, view the sitemap XML using the below URL.
http

:

//localhost/public/sitemap.xml
So, that was much about the article "How to Create a Sitemap in Bagisto". Also for any queries or doubts reach out to us at [email protected]. You can also raise a ticket at our HelpDesk System.
. . .