It is expected that a global recession is looming in the next year 2023 bringing along a sharp decline in consumer spending and a reduction in economic activity.
During the CNN interview even the world's biggest e-commerce marketplace, Amazon.com owner Jeff Bezos warned consumers to hold on to their money and postpone big purchases.
Forecasting the impending recession in 2023, manufacturers have also acknowledged their declining sales targets. But in this economic downturn how can e-commerce retailers and online store owners prepare, let us find out in this article.
There are a few suggestions that small and medium online retailers can follow to reduce the impact of the upcoming 2023 recession.
#1 Don't Cut Back On the Marketing
Your brand should stay on top of your consumers' minds. E-commerce businesses should not totally cut off their marketing spending to reduce their budget.
Instead, they should work out to make their customers recall and remember their brand whenever they are on the brink of commencing purchasing activity.
This is especially beneficial for acquiring new customers, who will spend less time trying an unknown brand and instead will pick and buy your product since they are already aware of it.
Therefore, online merchants should keep on promoting their brands as well as products on multiple mediums. For example, they can run ads on YouTube and other social media platforms. Share periodic updates via email and SMS or begin livestream shopping events.
#2 Identify Changing Consumer Needs
With rising economic uncertainty around the recession, consumers change their spending habits. They significantly lessen the purchases of discretionary products such as buying luxury items and also refrain from spending on leisure activities like going on international holidays, watching movies, or dine-out.
Rather, retail customers will prefer to pay for essential items such as groceries, fuel, utility services and other things that are critical for their well-being.
As an e-commerce seller, you should adapt to this changing environment and learn more about your customers. What do they need, is your product or service essential for them, and can they live without it?
Most shoppers may not feel the necessity to buy your product, but what if you can deliver a stimulating message that makes them consider that your product will make their lives better?
Retailers should think less about transactional and more about building value-driven relationships with their customers. For instance, online store owners can utilise AI-enabled product recommendations to analyze customers' past behaviour and activity and then suggest products based on their interests.
#3 Improving Business Efficiency
During the recession period, all businesses will set a goal to save costs. Since companies will be downsizing their budget and operating with minimal cash reserves, they will aim to maximise returns for every dollar spent.
In this scenario, automation can certainly help e-commerce store owners to make their processes more efficient without requiring more teams. By integrating chatbots service, your customers can get answers to their frequent queries much faster and also ease the burden on the support agents.
With AI-powered voice commerce, Alexa can help customers in shopping as well as merchants to do simple tasks in preparing sales reports or getting some insights related to their e-commerce store.
Online sellers can also take the advantage of automated software solutions for repetitive work and increase productivity. For example, you can use CRM and helpdesk softwares to deliver great customer experiences and automate marketing operations like email campaigns.
#4 Focussing on Digital Sales Channels
Businesses that embrace digital technologies can thrive during this harsh economic climate. Since IT-driven innovations will not only improve their internal processes but will also enable them to expand their markets.
E-commerce site owners will need to concentrate more on leveraging new-age methodologies to nurture their digital channels. Since fewer people will be visiting physical stores while most of them will prefer to shop online.
As we all have witnessed the rise in mobile app downloads during the pandemic. So developing modern web apps is now a necessity for every retail business. That will help to deliver a seamless checkout experience between the web and mobile shopping carts.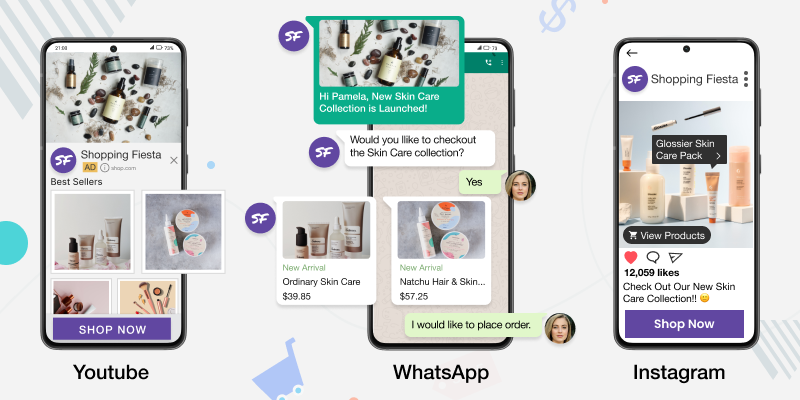 Another example is social commerce, i.e. selling and promoting on trending social media platforms such as TikTok, Instagram and YouTube.
One more thing that businesses need to take care of is optimizing their e-commerce website to deliver a high-performance experience at all times and stay ahead of the competition.
Businesses should think more about moving their budget allocation from physical store sales to expanding their digital presence such as paid advertisements, website speed optimization, and updating content and information quickly at all channels using PIM software.
#5 Adopting Digital Innovations
Augmented reality and machine learning technologies have both now created real-world use cases for retail commerce.  From originally using the selfie filters on Instagram and Snapchat for amusement to now implementing them for AR-commerce.
We can see how virtual try-on is already in use by many popular e-commerce retailers. One such example is Lenskart.com, a popular online marketplace for trying and buying sunglasses and eyewear. Where customers can virtually try on the glasses using a smartphone or laptop's camera.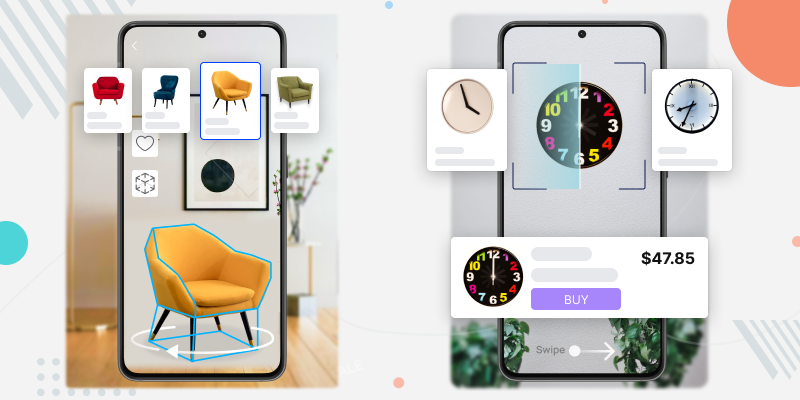 View in AR is also a very excellent example of how online shoppers can view tangible products in their real-life environments. With a single click of the View in AR button, the customers can use their smartphone camera and see how the object appears in their living room such as furniture items like chairs, tables, or flower vases.
#6 Dropshipping Items
There is no point in stockpiling more inventory when you are sceptical about their sales. Moreover, the smarter way to do business during a recession is to not keep any stock item at your end and instead dropship them directly from suppliers to customers.
Dropshipping has indeed opened many doorways for small-scale traders to run their whole e-commerce business virtually. Since they do not need to handle the inventory or shipment, so they are focussing more on their marketing and improving the online shopping experience.
But what can existing store owners can do is reduce their risk of unsold items? Well, they need to find sellers who offer products at lower prices. Additionally, online sellers also need to partner with reliable shipping partners for delivering the items or request dropshippers to manage it at their end.
Thus, through drop shipping, e-commerce businesses can greatly reduce their risk and expenses of storing the products in the warehouse but instead focus more on selling online.
#7 Better Inventory Control
Inventory management plays a very significant role during the economic slump. With sluggish sales, piling up of unsold items, and overhead costs, e-commerce businesses will undoubtedly suffer losses.
Therefore keeping a strict check on all products is of utmost importance. Online sellers should know which are slow-moving products and which can be sold quickly without much effort.
E-commerce store owners can create urgency on product pages by showing their inventory count. For example, display some intriguing text messages like Only 2 items left, or 1 item left, stock depleting soon.
Retailers should audit and track their merchandises count using some inventory management system. All the information should be in sync across multiple sales channels to avoid both overstocking as well as back ordering problems.
Therefore, with better inventory control, retailers should keep a balance where there is neither a plenitude of items nor a shortage of units.
Summarize
The year 2023 is still ahead so e-commerce retailers have some time left to prepare for the recession. Continuing the marketing activities, leveraging social commerce, and implementing digital technologies like AR and Machine Learning into commerce will make merchants handle the ecommerce recession. Furthermore, having better control over the stock units and anticipated demand should be managed by inventory management solutions.
. . .