We can see the revolution in the crypto world and you must hear about NFTs (Nonfungible tokens). Here, we are going to discuss "NFT and develop your own NFT Marketplace to stay competitive in the crypto world".  
It's the right time to invest in this NFT Marketplace and you can also trade your digital assets on a blockchain platform. A digital asset that represents real-world elements like art, music, in-game items, and movies is known as an NFT. 
As per the latest market research, the global NFT market size is expected to grow from USD 3.0 billion in 2022 to USD 13.6 billion by 2027, at a Compound Annual Growth Rate (CAGR) of 35.0% from 2022 to 2027. Here are the top NFT Statistics you should know-
In 2020,

the total value of NFT sales was

$250 million

and in 2021, the NFT market was valued at

more than $41 billion.
In 2021, within a month the number of NFT art sales surpassed 1.5 million.
What is a Non-fungible token?
The non-fungible token (NFT) is a unique and non-transferable data record on a digital ledger utilizing blockchain technology to give evidence of ownership. As a result, NFTs like traditional art, collectibles, domain name, etc have evolved into collectible digital objects with monetary value. 

What exactly is NFT Marketplace?
The NFT marketplace is a distributed platform, where you can create, buy, sell, and store non-fungible tokens. An NFT marketplace enables the minting and trading of NFTs, while blockchain ensures transparency and immutability in the digital asset tokenization and trading process.
NFTs storage is handled by the NFT Marketplace creator and marketplace both.
Use Case of NFT Marketplace
Each NFT has different features with numerous use cases, For Instance: NFTs in Real estate, online gaming, art domain, sports, and other NFT use cases are the most common. 
A blockchain platform has been used to tokenize real estate properties. Real estate is just like other NFTs where investors can purchase the exchange in the NFT marketplace, each property is fractionalized into many assets.
NFTs in the Sports Industry 
 Sports industries where sports organizations, sportspeople, and teams are moving toward Sports NFTs and this is also a new source of earning for them. Via sports NFT collectibles, sports fans can engage with their favorite sports person or games.
NFTs in the Online Gaming Industry
Gaming industries have introduced the concept of NFTs. Cryptokitties and Axie Infinity are examples of how NFTs and blockchain are changing the world of gaming. NFT marketplace creators and gamers are now investing in the gaming industry also.
One of the more fascinating  NFT use cases is memes. Now users can buy and sell their memes on NFT Marketplace globally.   Memes can be converted into NFTs by minting them in any NFT marketplace development platform.
Why do you need an NFT Marketplace?
The main reason behind this NFT is to decide the ownership of particular artwork Let's discuss with an example: As you heard about the "Mona Lisa" painting that was made by Leonardo da Vinci, So the owner of that painting was Leonardo only.
Although you can also create a duplicate of that painting, click it's a photograph, there is only one piece of that painting that exists. That means, we took a piece of art that is unique and then I assigned a token to that piece. That makes the token a certificate of ownership.
This means whoever holds that token is the rightful owner of that property. That "property" could be anything. It can be a song, game, any digital artwork, or anything. And yes, this token is being stored in Blockchain. 
So what they did do? they took one thing and assigned a digital token to it and then stored that token number digitally in the Blockchain ledger. Basically, it is stored just like Ethereum, and the way Blockchain technology function is decentralized.
Its multiple copies can also be seen on multiple computers all around the world. Which is defining that, this particular artifact is assigned to this particular token. its main benefit is you can make the peer-to-peer transaction.
This means you can transfer the ownership certificate from one person to other. It was developed because you can go to the server in order to make a trade but now that the middlemen server is no longer prevailing. And the people can trade with each other directly.
How does the NFT Marketplace work?
It's crucial to understand how an NFT marketplace works from the client's perspective before diving into the details of how it's developed.
To get started, a user needs to

register on the NFT Marketplace platform

and

Create or install a

digital wallet to store NFTs.

The next phase in the procedure is to

list the items for sale

.

The user can either make a

fixed-price bid

or

participate in an auction

. 

When a user

posts an item for sale

, a transaction is created in the user's wallet to start a personal trade

smart contract.

Features of NFT Marketplace
Check out these key reasons why non-fungible tokens and NFT marketplaces in general pique people's interest.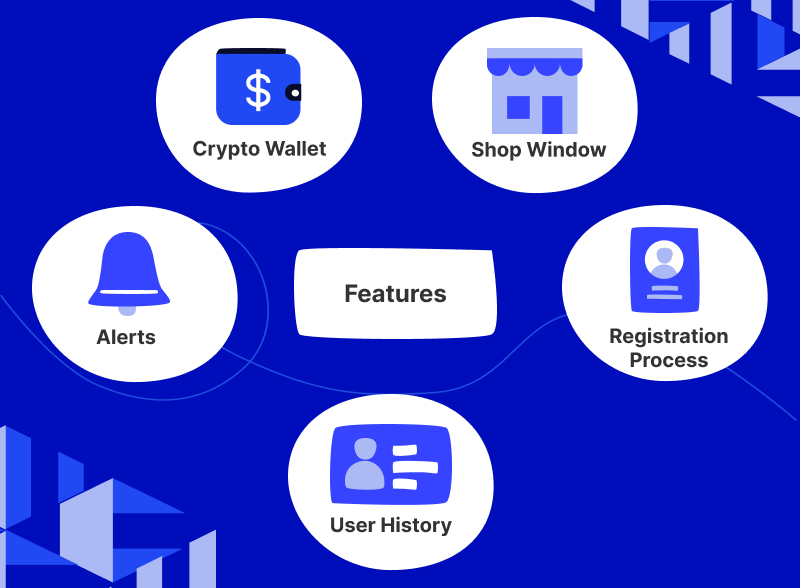 Every NFT transaction must take place through a crypto wallet, which is why this is an essential, required feature of every NFT marketplace. 
For smooth transactions, the user will be able to sync and link their crypto wallet with the NFT marketplace. Metamask is one of the most popular crypto wallets for NFT marketplaces.
Shop window name, price, description, owner, and payment method of NFTs should be prominently shown in the marketplace. NFT marketplaces with this shop window prominently displayed will have a better probability of generating sales.
New users can create accounts in the NFT marketplace easily and then integrate their current crypto wallets into the marketplace. If the user does not already have a cryptocurrency wallet, they should be able to establish one straight away.
The NFT marketplace must be able to capture, maintain, and show all of a user's trade data, transaction history, and NFTs listed, approved, bought, and sold on the platform. For this feature to work, the platform must have a comprehensive user management system.
Based on their search and transaction history, users can also able to receive notifications and alerts from the NFT marketplace.  When a new NFT is added then the user should be able to receive an immediate notification.
How to develop your own NFT Marketplace
In order to create an NFT marketplace module, it must first have a business model and the NFT Marketplace creator should keep in mind the following aspects.
To build an NFT market, it is beneficial to pick a certain niche. You need to decide what type of NFT categories you are going to provide in your NFT marketplace and you should think about your target audience. 
Twitter Post
Digital Art
Memes
Domain name
Games
Collectibles
Celebrities NFT
Sports
Photography
Virtual worlds
Utilities
Technology Stack for your NFT Marketplace
There are the following technology stacks you need to choose before developing the NFT Marketplace.
Blockchain Platform
Ethereum
Polygon
Flow
Solana
EOS
Hive
Storage Platform
NFT Token Standard
Front End Framework
Programming languages
Smart contract deployment  Tool
Remix
Tenderly
Hardhat
Truffle
Wallet Integration 
Metamask
Math Wallet
Trust Wallet
Coinbase Wallet
Define the UI/UX Design for Your NFT
The UI/UX design is also critical while developing an NFT marketplace. A good user interface and user experience (UI/UX) promote usability and offer the platform a pleasant appearance. Your user interface should be straightforward.
Besides you need to keep up to date with your NFT Marketplace with the latest trends and clients' requirements. 
Testing and Release NFT Marketplace
Once you have done your NFT Marketplace development, then you need to do software testing ( post-launch testing ) which is required to ensure that the project is flawless and to check the functionality of each module.
Cost to Launch NFT Marketplace
The cost and efficiency of a product are also determined by the current market demand. The product's dependability is also dependent on the platform from which the key is obtained. 
There are also many options for hiring a software development team. Moreover, the fundamental elements of the NFT marketplace clone script usually cost around $100K -500K but this is not a fixed amount, but just an estimation. 
The Bagisto NFT marketplace is a cutting-edge digital content trading, selling, and purchasing platform. 
We can see the rise in popularity and value of cryptocurrency. It's safe to predict that the Bagisto NFT marketplace and the entire blockchain network will continue to be in demand in the long run. That is why it's so vital now and in the future.
So, that was much about the "NFT and develop your own NFT Marketplace" for any queries or doubts reach out to us at [email protected]. You can also raise a ticket at our HelpDesk System.
. . .