What is Affiliate Marketing?
Affiliate marketing promotes eCommerce website products or services through its marketing channels. It earns a commission on each sale or conversion they generate.
In affiliate marketing, eCommerce provides unique tracking links or codes to affiliates. Affiliates can use this popular method for eCommerce websites to promote products or services.
It offers a way to their existing online presence and earns income by promoting products.
How Does Affiliate Marketing Work in Ecommerce Website?
Affiliate marketing is the best choice for both the eCommerce website and the affiliate marketer. Ecommerce gets more exposure and sales for its products. While the affiliate earns for promoting the website's products or services.
The basic process of affiliate marketing works like this:
The affiliate promotes the website's products to its audience. There are various channels where affiliate marketers promote the eCommerce website. The promotional channel can be the website, blog, social media, etc.
The business tracks the sale back to the affiliate from various tracking ways. That allows the eCommerce website to identify which affiliate referred the customer and provide the sale to them.

The eCommerce pays the affiliate a commission for each sale they referred. The advertising cost can depend on the eCommerce website's affiliate program. Also, the type of product or service sold by the websites.
What Are The Benefits Of Affiliate Marketing?
With affiliates, eCommerce websites can expand their reach and can increase their sales. And they can also improve the brand awareness of businesses.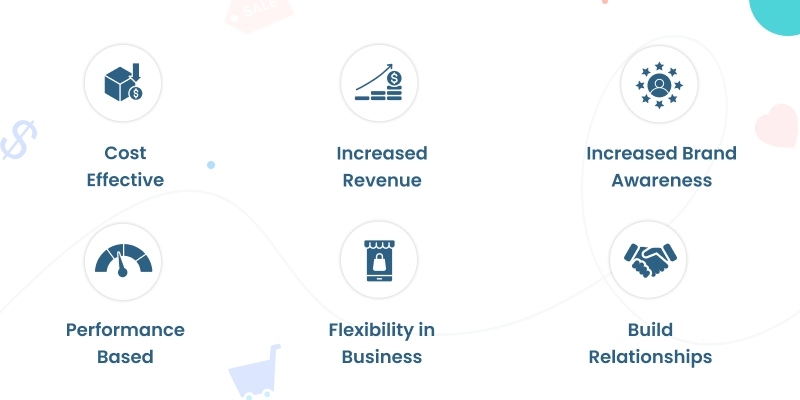 It offers several benefits for both the affiliate marketer and the eCommerce website:
Cost Effective
Affiliate marketing is a cost-effective method to promote eCommerce products or services. The eCommerce website only pays a commission to the affiliates on each sale.
Increased revenue
This marketing can increase revenue for both the eCommerce website and the affiliates. The business can reach a large audience through the affiliate marketer's promotion. The affiliate can earn from the eCommerce website on each sale.
Increased brand awareness
Affiliate marketing can increase brand awareness of the business's products or services to a new audience.
An eCommerce website can also use a social app like Facebook or google to promote products or services.
Targeted promotion
Affiliate marketing allows for the targeted audience. The affiliate marketer can choose to promote services to the targeted content.
Performance-based
It is a performance-based marketing strategy. That means that affiliate marketing is only paid when they provide a sale or lead.
Flexibility
Affiliate marketing is the best marketing strategy. And it can work with all sizes of businesses. The affiliates can work from anywhere at any time to promote products and services for eCommerce websites.
Build relationships
It can help to build strong affinities between eCommerce websites and affiliates. Which can help in long-term partnerships and grow the revenue of the business.
How Is Bagisto Used As Affiliate Marketer in Ecommerce?
Bagisto is an open-source eCommerce platform that can be used as affiliate marketers to create and manage their online stores.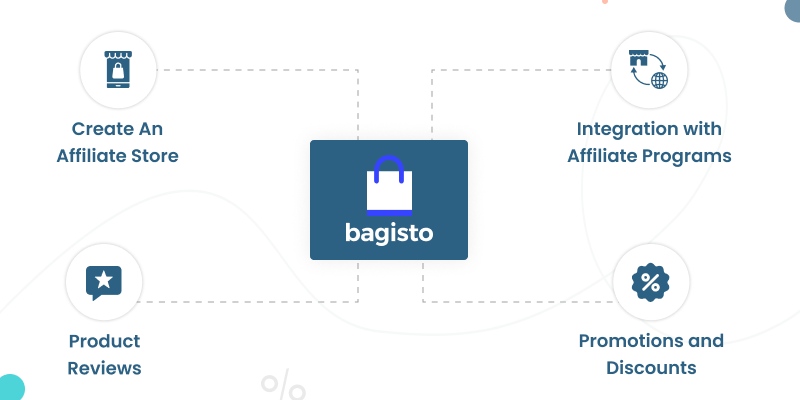 Here are some ways in which Bagisto uses as an affiliate marketer in eCommerce:
Create an Affiliate Store:

With Bagisto, you can create an online store that features products or services. From various affiliate programs, Bagisto can promote the services. This means you can promote products or services from different merchants on a single platform.

Work with Affiliate Programs:

Bagisto has a built-in connection with various affiliate programs. Some of the popular affiliate programs that integrate with Bagisto include Amazon and many more.

Product Reviews:

Bagisto allows you to add product reviews and recommendations to your store. With Bagisto, you can start

affiliating marketing

for your eCommerce website.

You can use these features to provide information to your audience and drive more sales.

Promotions and Discounts:

Bagisto has built-in tools for creating promotions and discounts. Which can help you to promote your products and services and earn commissions on sales.
Conclusion
For businesses, affiliate marketing is the best option for eCommerce websites. It can increase their reach and revenues. Using affiliates, eCommerce websites can reach new audiences and increase brand awareness.
However, eCommerce websites can select their affiliate marketers. And check their performance to ensure that the partnership is beneficial for you.
Thanks for reading this article, hope this helps! For any queries, you can raise a ticket at our Helpdesk System.
. . .